I was supposed to work this morning. I had the 2nd day of training for our summer algebra program. I was looking forward to it. But, my car overheated last night, so I got up this morning to add fluids to the radiator and see how it went. It seemed fine, so I left the house for the 35 mile ride to Carson.
I was about 2 miles from home when my car started to overheat again, but not as badly. Then, my mother called to tell me of my grandma's passing. after we talked I decided the overheating was a sign that I should go back home. I turned around and then…
The car STOPPED OVERHEATING. Seriously.
I drove home a bit dazed. I spoke to my BF and he said this was probably Spirit's way of convincing me to take a day at home in prayer. He could not have been more right.
I told my son the sad news and spent some time looking at flights, although there is a large chance we cannot afford to go out for the funeral. Flights are like $700 each.
We were just hanging out and I got the sudden urge to go buy some plants at Home Depot. In my mind's eye, I saw plants in my living room, so that is what I was being led to do.
We looked at Ficus trees and flowers, and then my son went over to look at the cactus/cacti. It immediately hit me that we should do a cactus garden in a round pot. Things led to things and this is what we did…
We decided to write short notes to Elinore. We said the thing we would have said to her if we had a chance to be there are her bedside before she passed. Those things will stay private. We buried those notes deep in the soil of our garden and then we planted the cactus together. Julian had picked out a tiny gnome to add to it to throw people off(that's my boy!)
The cacti we planted are called:
Moon Cactus(red/orange bulb on top)
"Live Forever" or "Hens & Chickens" (reddish green with offshoots)
Burrito(light green bulbus one), blue rose(in the middle)
String of Buttons" (small cluster of rose looking green ones)
Red Headed Irishman(grandma was Irish)(spiky one)
We are going to send this photo to my grandfather and my mom along with the whole story of how it came about and why. Spirit/Creator/God/Goddess is all over this one.
Mitakuye O'yasin.
Here is the photo of Elinore's garden: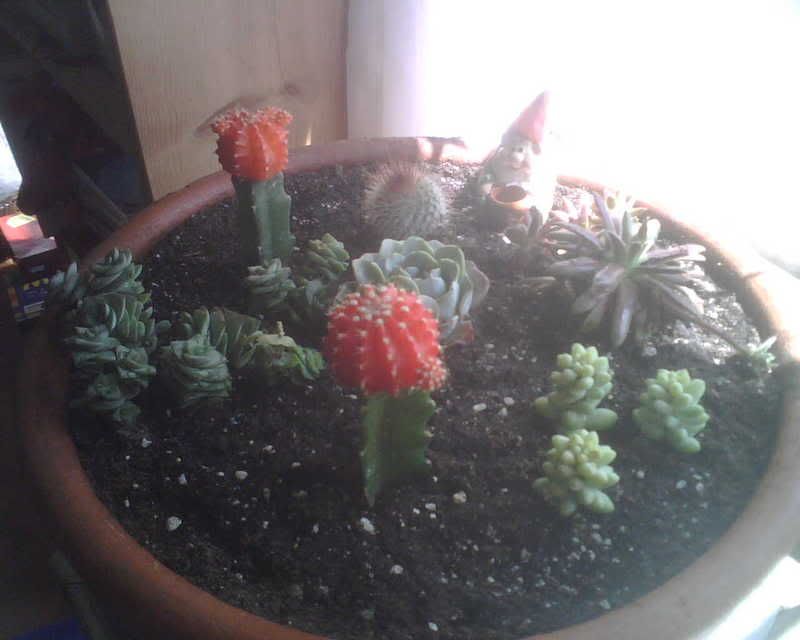 ETA: I just spoke to my mother. She told me that my grandmother had a cactus garden in their house at one point as she was growing up. 🙂
Tags: cactus, eleanor's garden, family, grandma, home, julian, plants, Spiritual Monkey